Hashtag Analysis
Hashtags are the perfect method of finding relevant content to share, it also gives the audience an easy way to find your content, and grouping together like conversations. Hashtags have many different advantages and are an essential part of your content strategy.
The first hashtag was used on August 23, 2007, by Chris Messina as a means to differentiate between groups of topics within tweets. Now hashtags are used all over the world and on several different social media platforms.

Popularity – How popular is the hashtag that's being used? How often is it being searched for? It is a good idea to check for popularity of a hashtag so you're not spamming your followers with irrelevant hashtags.
Reach – How many people see your hashtags? You may use tools such as Sprout to find related hashtags that are getting attention or try some new tactics to see if engagement can be improved by using different hashtags.
Users – It's important to make sure that your target audience is seeing these hashtags and interacting with them. By knowing your target audience, you are able to find suitable hashtags as you can see which they interact with the most.
Branded Hashtags – Creating your own personal brand hashtag is a great way to keep track of who sees your content, who interacts with it and the popularity of the hashtag.
Each social media platform allows hashtags now, however, that does not equal increased traffic to your social page.
Each platform has a maximum number of hashtags allowed but it's not recommended to use the maximum amount allowed.
Instagram
Allows 30 hashtags maximum, but TrackMaven reports that 9-12 hashtags generate the highest engagement levels on average.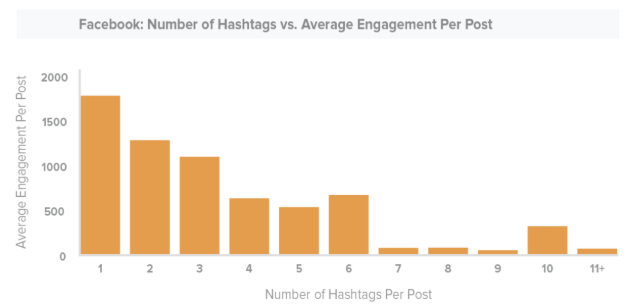 Facebook
Hashtags are not as popular on Facebook, in fact, posts with hashtags did not seem to perform as well as those without. Brand-specific hashtags are beneficial as well as using a maximum amount of 1-2 hashtags per post.
Twitter
Due to a limited character count, it is recommended by Twitter to use no more than 2 hashtags per tweet.
LinkedIn
Similar to Twitter, the optimal number of hashtags to use on a LinkedIn post is 1-2. You can search hashtags using the platform's search bar or get hashtag suggestions from LinkedIn as you write an update.
TikTok
TikTok limits captions to 100 characters plus you need a minimum of 3 characters per hashtag so practically speaking you can use 33 hashtags in a caption. Hashtags can also be added in the comments.